Final Fantasy XIII Lightning Returns analysis
La trilogía principal de Fabula Nova Crystallis –XIII, XIII-2 y Lightning Returns- se ha ganado a pulso ser la etapa de Final Fantasy más polarizadora de opiniones entre los jugadores. Ni siquiera el salto al juego en red de XI o la historia tan Yasumi Matsuno de XII consiguieron dividir tanto a los fans, lo que habitualmente supone extremos tan exagerados como veteranos seguidores que aborrecen a Lightning y aquellos que adoran este universo, su protagonista y el sistema de combate hasta el extremo de no poder volver a tocar los viejos combates por turnos. Lightning Returns Final Fantasy XIII va a continuar en esta línea divisoria, en parte porque nos ofrece sensaciones encontradas entre sus muchas virtudes y defectos, y porque Square Enix ha optado por tomar casi el camino opuesto a XIII en su creación: libertad de movimientos frente a narrativa.
Como os contábamos en nuestras impresiones, Lightning recupera el protagonismo tras X-2 con un objetivo claro: salvar a la humanidad o al menos a parte de su población de un final marcado en el calendario. Esta redentora de almas deberá rescatar a tantos habitantes como pueda con la intención de llevarlos al nuevo mundo que se promete, y de paso retrasar lo inevitable tanto como sea posible. Quedan escasos días para este acontecimiento y el reloj juega en nuestra contra. Hope será nuestro apoyo ofreciendo asesoramiento por radio, y cada día a las 6:00 de la mañana tocará hacer informe de las almas salvadas, momento en el que se interrumpe irremediablemente nuestra exploración.
La historia introduce algún personaje nuevo –no muchos- y el regreso de conocidos, amigos o enemigos, no todos contentos por el regreso de la protagonista. Para evitar cualquier tipo de información sensible evitaremos dar nombres. Os recomendamos encarecidamente dar un repaso a los dos predecesores –en especial X-2- porque desde el minuto uno arranca la historia sin preámbulos ni presentaciones, se sobreentiende que el jugador conoce –y muy bien- todo el trasfondo de su mitología; ocasionalmente aparecen vídeos de secuencias de los otros juegos, pero sólo para refrescar la memoria.
No obstante, vamos a hablar de lo que no nos ha gustado del argumento, o mejor dicho, en la forma de contarla en este episodio como cierre de la trilogía –independientemente del gusto personal por la temática de Fabula Nova Crystallis-: se apoya tanto en acontecimientos pasados que le falta personalidad propia, y la presencia de una solitaria protagonista no encaja bien con la forma de contar un Final Fantasy. Lightning no es precisamente un personaje optimista o adorable en el sentido más estricto, lo que no quiere decir que sea un defecto; Cloud o sobre todo Squall han sido héroes dignos de aparecer en el diccionario junto a la definición de bordes y sosos, pero inteligentemente, Square Enix acompañaba a los héroes de un grupo que compensaba estas carencias, secundarios que aportaban un abanico de emociones, sentimientos y hacían de contrapeso. Tidus necesita a Auron, Yitán a Vivi. En Lightning Returns lo más cercano a un compañero permanente son las llamadas de Hope, exclusivamente relacionadas con la misión en curso y para recordarnos el poco tiempo que nos queda. Y Lightning no es una heroína con muchos matices, su evolución sicológica se ha mantenido casi invariable casi desde que saltó de un tren accidentado en XIII.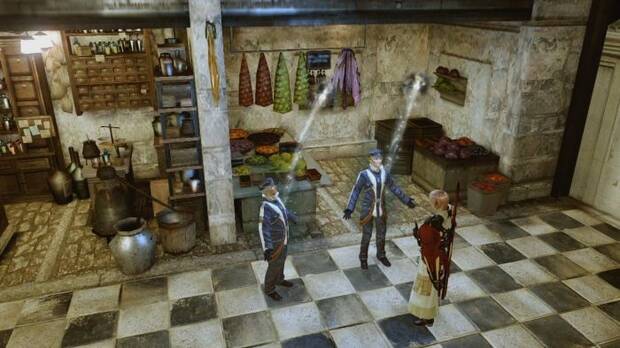 El nuevo desarrollo menos lineal hace también un flaco favor a la distribución de avances en la historia. Los amigos o enemigos que se cruzarán en el camino, cuando decidimos cumplir misiones principales, entran y salen de la historia y no vuelven a aparecer en horas de juego. Entre medias, falta una consistencia que sus predecesores sí tenían, diálogos que ayudan a comprender mejor los motivos de una peligrosa aventura. Lightning es un personaje fuerte, ¿puede que no necesite más que su convicción para cumplir con su cometido? Tal vez, pero el jugador echará de menos un plantel de personajes menos gris que contribuya, por ejemplo, con dosis de humor dentro de una fábula que se toma demasiado en serio, algo con lo que contaban aunque fuese en pequeñas dosis, XIII y XIII-2, y de manera mucho más evidente, cualquier Final Fantasy anterior. Aquí todo es tan apocalíptico, con una protagonista tan formal y un trasfondo tan pseudorreligioso, que el tono roza la parodia.
Great
Graphic
Story
Game play
Sound and Music
Summary
LR is an acceptable and honest end to these upscale triples, which may still be far from the classic version of the series, and many dislike it, but it has the potential to be in a good memory. FF series Farewell to the seventh generation and continue to be offered to Japanese enthusiasts.
Related posts